MY PERSONAL PETITION TO PRESIDENT DONALD TRUMP -- DEPORT GEORGE SOROS NOW!
PRESIDENT TRUMP! SNEAKY BILLIONAIRE GEORGE SOROS HAS FORFEITED HIS U.S. CITIZENSHIP AND MUST BE DEPORTED!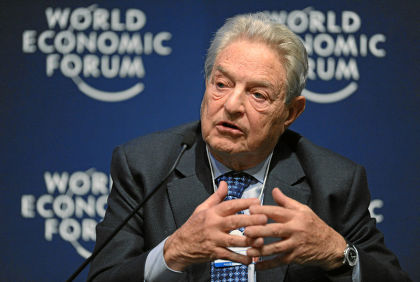 Dear President Trump,
In a 2011 open letter to European Union potentates, Soros -- a "dual citizen" of Hungary and the U.S., proclaimed himself a subject of the E.U., stating, "As concerned Europeans we urge Eurozone leaders to unite" and seize control of banking and the military.

FACT: Under federal and constitutional law you cannot be both a "European" and an American.
He can – and should -- be legally stripped of his U.S. citizenship and deported for his anti-American and one-world government activities.
Please use your powers to strip him of his citizenship and deport him. His meddling in American affairs is dangerous and unwanted.
First, Enter Your Zip Code